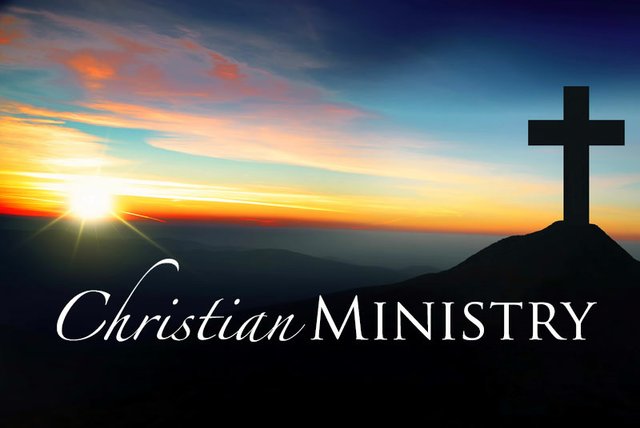 Ministry involves three kinds of labour! There is the physical labour which entails running around and doing natural  services necessary for life. This can be called serving tables.
"So the twelve summoned the congregation of the disciples and said, "It is not desirable for us to neglect the word of God in order to serve tables". Acts 6: 2 NASB
An example is travelling from one location to the other for the purpose of the gospel. Others include visiting people, washing clothes and doing other normal human activities. All these are forms of labour in ministry.
The second kind of labour in ministry involves studying the word and teaching it.
"The elders who rule well are to be considered worthy of double honor, especially those who work hard at preaching and teaching" 1Tim. 5:17 NASB
 In this case the minister spends time in studying the scriptures first of all for personal understanding and secondly for the purpose of teaching and preaching to others.
"But we will devote ourselves to… the ministry of the word." Acts 6: 4 NASB
Preaching and teaching the word is labour. We are expected to give our selves to teaching and preaching the word. We are to ensure that we feed the flock. This is the assignment of the five fold ministry. It is an apostolic instruction!
"…feed the church of God, which he hath purchased with his own blood" Acts 20: 28
Feeding the flock with sound doctrine is real labour.
"Feed the flock of God which is among you…" 1Pet.5:2
This labour attracts both temporary and eternal benefits. When the chief Shepherd returns, he will reward those and only those who feed the flock faithfully with sound doctrine."1Pet. 5: 4
The third form of labour in ministry is actually called wrestling or striving! It entails intense and protracted spiritual activity called prayer.
Notice that good preaching is powerful in impacting lives but prayer makes preaching effective!
Jesus is able to keep believers saved to the end through protracted, endless and everlasting intercession!
"He is also able to save to the uttermost those who come to God through Him, since He always lives to make intercession for them" Heb. 7:25 NKJV
The quality of our impact in ministry is a function of the quality of our intercession for the people! Every ministry must have a functional platform for regular and persistent prayers!
Paul calls prayer "striving" or "struggling"
" I urge you… to join me in my struggle by praying to God for me….that I may be kept safe from the unbelievers in Judea and that the contribution I take to Jerusalem may be favorably received by the Lord's people there, so that I may come to you with joy, by God's will,and in your company be refreshed" Rom. 15:30-32 NIV
This is significant. It means the real spiritual fighting happens in the place of prayer. It means we are only defeated in ministry in the place of prayers! There is no defeat in life and ministry except one is already defeated in the place of prayer!
The apostles knowing the irreplaceable role of prayer in ministry declared: "We will sell our selves to prayer…" Acts 6:4
Epaphras engaged in intense and protracted intercession to ensure that the Colossian believers stood perfect!
"Epaphras…is always wrestling in prayer for you, that you may stand firm in all the will of God, mature and fully assured" Col. 4:12 NIV
This simply shows that New Testament Apostolic Ministry is fundamentally birthed and sustained by intense protracted prayers. Prayer is a matter of life and death! It's a fierce issue! When you engage in prayer as a minister you are actually engaging in face to face confrontation with spiritual beings and forces! Your tenacity and aggression in the place of prayer determines which side your ministry will tilt to!
The choice is ours!